Joining Student Media is one of the most rewarding ways to get involved at Mason! Click on a group to the left to learn more.
We are the voice of the student body and publish exclusive content in print, online, and over the air on our student-run television and radio platforms. Whether you have your sights set on a career in journalism or just take photos as a hobby, we are always looking for talented students to join our dynamic team.
Reporter, designer, DJ, photographer, and news anchor are just a few of the roles you can explore by joining Student Media in one of our paid, work-study, volunteer, freelance, or for-credit positions. With over 12 unique student-run groups, there is something for everyone and we welcome the opportunity to help you grow your talents and find your niche.
Make an impact by getting involved in the most exciting office on campus while engaging your passion and sharpening your resume.
How do I get involved?
• Visit our office in The Hub Suite 1201 (lower level next to Mail Services).
• Fill out our online application online at: c2ms.info/osmapply
• Email stumedia@gmu.edu or call (703) 993-9745 and let us know you want to get involved.
• Attend one of our events and speak with a student editor or faculty advisor.
Why join Student Media?
• Build your resume
• Get your work published
• Gain practical hands-on experience
• Work in a professional and fun environment
• Earn co-curricular credit
• Meet great people
• Be creative
• Have fun!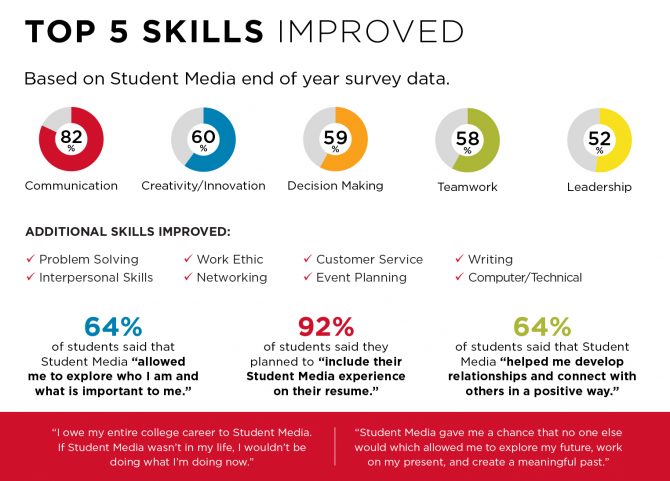 Take a tour of our office:
Stop by the Student Media office in The Hub Suite 1201, for a tour of the newsroom and our state-of-the-art television and radio studios. Pick up a FREE copy of your favorite student publication and learn more about getting involved. We hope to see you soon! Email stumedia@gmu.edu to request a tour.